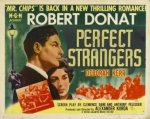 Perfect Strangers (1945)
aka Vacation From Marriage

Full uncut UK release.
Perfect Strangers [1945] [DVD] [All-region]
Robert Donat (actor) Deborah Kerr (actor)
format: all-region dvd | runtime: 92 min | quality: very good



Synopsis: With the outbreak of the Second World War, a nondescript clerk (Robert Donat) and his dowdy wife (Deborah Kerr), locked in a staid and indifferent marriage, join the navy and the Wrens respectively. Their separate wartime experiences transform them and their post-war relationship.

Adapted from a story by Clemence Dane, and produced and directed by Alexander Korda, this is an interesting, engaging and sympathetic film, guaranteed to please thanks to the presence of its attractive co-stars.

The Americans loved it, and gave Miss Dane (who co-scripted with Anthony Pelissier) an Oscar for her story. Ann Todd, Glynis Johns and Roland Culver are excellent in the secondary roles.
Price: £16.00
FREE worldwide shipping.
This item is In Stock

Call today on 01276 34126
or buy online (secure site).

Other ways to order: