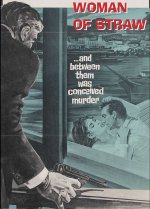 "Woman of Straw 1964" DVD
Suitable for UK, Europe, Australia and NZ
Woman of Straw [1964] [DVD] [R2]
Gina Lollobrigida (actor) Sean Connery (actor)
format: all-region dvd | runtime: 87 min | quality: digital widescreen



Synopsis: Having already made Hitchcock's Marnie and the Bond movie Goldfinger, Sean Connery seems to be taking a busman's holiday in this setbound thriller adapted from Catherine Arley's novel.

The picture sets off at a lively pace, but gets bogged down once wheelchair-using tyrant Ralph Richardson has been found dead and gold-digging nephew Connery finds himself among the murder suspects.


"Fantastic digital quality dvd with custom artwork, an absolute bargain, thank you for sourcing this for us. Margaret."
Available from 6th April 2015. Simply Media release.