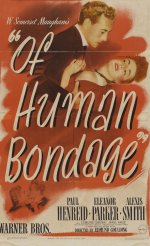 Of Human Bondage
(DVD)(1946)

"A Somerset Maugham classic. A must have."
Of Human Bondage [1946] [DVD] [All-region]
Eleanor Parker (actor) Paul Henreid (actor)
format: all-region dvd | runtime: 105 min | quality: excellent



Synopsis: Somerset's Maugham's famous novel about a crippled, introverted medical student whose life is almost destroyed by a coarse-grained waitress has found little success on screen. The 1934 film with Leslie Howard and Bette Davis is the most successful; the 1964 version with Laurence Harvey and Kim Novak a total disaster.

This miscast effort stars Paul Henreid and Eleanor Parker: he too sophisticated and uncomfortably wooden, she doing her best to convince as a cockney. The film is solid and respectable, but ends up dull and unconvincing. For all its intrinsic deficiencies, however, one keeps watching, buoyed by a good supporting cast that includes Alexis Smith and Edmund Gwenn.

Of Human Bondage: Adaptation of Somerset Maugham's acclaimed novel about a doctor's ill-fated passion for a promiscuous waitress. Drama starring Eleanor Parker, Paul Henreid, Alexis Smith, Edmund Gwenn and Janis Paige.
Price: £16.00
FREE worldwide shipping.
This item is In Stock

Call today on 01276 34126
or buy online (secure site).

Other ways to order: