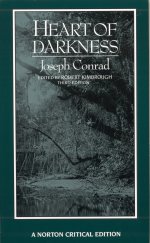 Heart of Darkness [1993] on all-region DVD is suitable for the UK, Europe, Australia and NZ. Outside these areas please check your tv / dvd system is PAL compatible.
Heart of Darkness [1993] [DVD]
Tim Roth (actor) John Malkovich (actor)
format: all-region dvd | runtime: 100 min | quality: digital



Making a faithful screen adaptation of Joseph Conrad's brooding novella about madness and greed, which formed the basis for Apocalypse Now was always going to be a bold step given that parallels would inevitably be drawn with Coppola's masterpiece. The story is certainly one familiar to film-goers, a man (Tim Roth) is sent up the Congo in a leaky steamboat to find the renegade Kurtz (John Malkovich in malevolent form), an ivory trader now mad prophet and self-acclaimed king.

The eccentric visual flair associated with the once mighty Nicolas Roeg made him the perfect choice for this straight-to-cable production shot on location in Belize, and he encourages exemplary performances from his two main leads. Overall though this never manages to rise much above the ordinary.





Price: £14.95
FREE worldwide shipping.
This item is in stock

You may also pay by