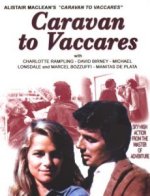 Caravan to Vaccares DVD
Caravan to Vaccares [1974] [DVD] [All-region]
David Birney (actor) Charlotte Rampling (actor)
format: all-region dvd | runtime: 98 min | quality: very good



Synopsis: Action adventure based on the novel by Alistair MacLean, starring Charlotte Rampling and David Birney. American drifter Neil Bowman is presented with an opportunity to earn his ticket home from France by accompanying a mysterious Hungarian to New York. But the assignment proves fraught with danger for Neil and his English girlfriend.

Caravan to Vaccares is one of several Alistair Maclean books turned into a movie. If you are looking for others please get in touch with us.
Price: £16.00
FREE worldwide shipping.
This item is In Stock

Call today on 01276 34126
or buy online (secure site).

Other ways to order: